Aviation Security Clearance and your Identification Card (ASIC)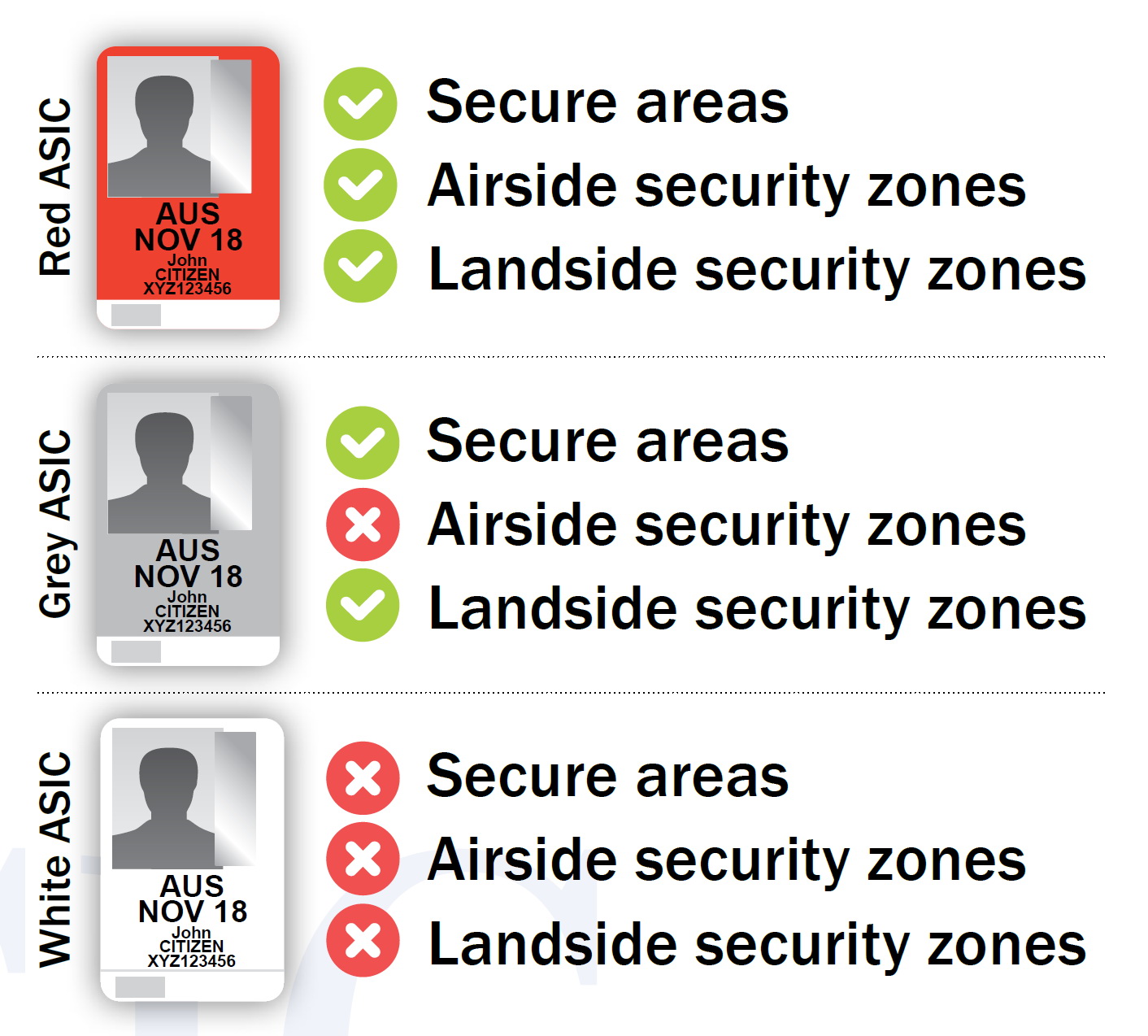 AUS AUSTRALIA-WIDE CARD RED OR GREY - multilpe airport card for pilots, aircrew, contractors and others
REGIONAL AIRPORT CARD RED OR GREY - single airport card for use at only one airport
MAJOR AIRPORT CARD RED OR GREY - single airport card - for approved employers only at the major international airports. If you definitely require a card for one major airport only (and not more than one airport) and your employer is not yet approved, please contact us to seek pre-approval or contact the relevant airport directly.
WHITE ASIC FOR KNOWN CONSIGNORS / AACA / RACA
JOB READY CARD. Not an ASIC and not associated with access. Provides evidence of an aviation security clearance. In some cases it can be re-issued as an ASIC when employment and operational need is confirmed.
Identity Verification Regulations Change on 1 August 2017
New Categories of Identification Documents
A B C D

replaces primary, secondary and tertiary ... you will need to provide at least 3 documents.
Certification by JPs and similar general witnesses is no longer available, replaced by in-person verification by our trained agent who holds a security clearance.
See our How it Works page for more detail and examples of documents you can use.
More changes are coming in 2017 - subscribe to our newsletter for updates ... click here
Agents
We are seeking more agents to carry out the above in-person verification process. An agent arrangement allows an employer, flying school, aero club or association to conduct the in-person verification for their own members, and not have to visit or pay a third party for the service. In conjunction with the online process, the application can be made from your office and the card delivered direct to you. Expressions of interest are also welcome from agents who might charge a fee for their service.
More about us and ASICs
Security ID: the online name of our Australia-wide authorised Issuing Body for Aviation Security Identification Cards. We have been operating operating with online applications since 2008 to provide a value for money solution.
Price: $223 including GST and credit card fee. We also include trackable e-parcel express post, a lanyard and plastic card holder.
Fast: 50% of applicants receive clearance in 5 days or less. 90% are completed within 10 days.
What is an ASIC? ID Card V Access Card
An ASIC is an IDENTIFICATION CARD. An ASIC is not an ACCESS CARD. Access is controlled by each individual airport. We provide ASICs only. Contact the airport if you also need an electronic access card.
An ASIC is used to identify a person who has been the subject of a background check. An ASIC is required to obtain unescorted access to the secure areas (including the airside) of security controlled airports that have regular public transport (RPT) services.
An AUS ASIC is valid at more than one airport. An airport-specific ASIC is valid at only one airport.
Red ASIC for all secure areas. Grey ASIC for secure areas except an airside security zone. White ASIC is used at airport and non-airport locations and is not valid for unescorted access to any secure area of an airport - to be valid in a secure area, obtain a red/grey card from us or a visitor card from the airport.
ASICs are valid for up to two years.
Who needs an ASIC?
Applicants should check with their supervisor or airport operator to see if they need to hold and/or display an ASIC.
A person has an operational need to hold a red or grey ASIC if they have a requirement for frequent access to all or part of a secure area of an airport where persons are required to display an ASIC, and for the operation of the airport or an aircraft. A person involved in checking in passengers or handling baggage will need an ASIC. Airside security zone requires a red ASIC.
Known Consignors who do not access secure areas at an airport may need a white ASIC to meet US air cargo security requirements.
Visitors who need to access the airside area or any landside security zone of an airport need to wear a Visitor Identification Card (VIC) and they must be supervised by a person displaying a valid ASIC until they leave that area or zone. VICs are issued by the airport being visited.
Applicants must be cleared before an ASIC can be issued. This involves a criminal records check, a security assessment by ASIO and an immigration check. We submit applicant details to AusCheck for this to occur, and we pay the relevant fee.

To confirm that we are an authorised ASIC Issuing Body click here for the government web page where you will see us listed under our company name of Airport Security.
For more information on ASICs click here. For more information on AusCheck click here.
Lost/stolen/damaged ASIC?
You need to advise your issuing body and complete a statutory declaration. For more information about statutoty declarations, to download a form and to find a list of authorised signatories click here.